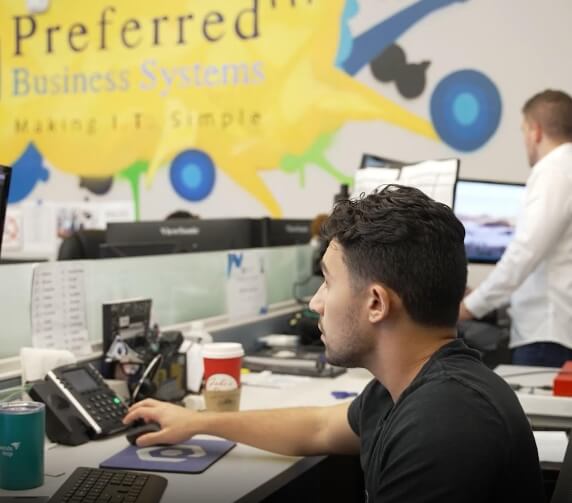 Career Opportunities
Preferred Business Systems is a leading business technology solutions provider in New Jersey and a great place to work. From the most reliable cybersecurity software to the latest state-of-the art copy machines, managed IT services to being a trusted 360° comprehensive help desk, we're trusted by small and medium-sized businesses across the United States for over 25 years.
We center our company on 5 core values that continue to extend our growth year after year.
Going above and beyond.
Being accountable to each other to get the work done.
Gratitude, honesty, and integrity (Our GHI) will lead our business.
Teamwork ensures that the job gets done.
By working within these values, the customer comes first.
Current Job Openings
Think you have what it takes to take us to the next level? We look for great people who want to provide excellent, responsive service to our customers. Here is our list of current openings. Please click on the link to find details for each position, as well as the way to apply for it.
MSP IT Technician
New York, USA
The right candidate will be responsible for day-to-day system administration tasks including monitoring, installing, maintaining and updating company hardware and software, as well as troubleshooting problems with internal systems
Apply Now
View Details
Senior IT Sales Executive
New York, USA
We are looking for a Senior Account Executive to help lead our sales team. If you are an end-to-end seasoned sales professional with a can-do attitude, this is an incredible opportunity for you. Our ideal candidate has the drive for achieving goals and a love for technology
Apply Now
View Details
Administrative Assistant
New York, USA
As an Administrative Assistant, you will be responsible for performing a variety of administrative and project-based activities in support of the sales and operations departments within our Whippany, New Jersey headquarters.
Apply Now
View Details
97

%
Customer Satisfaction
Testimonials What Our Clients Have
to Say
Rated 5-stars on Google | Currently serving over 12,000 happy businesses throughout the New Jersey Tri-State Area!
We met Rich Campbell, the owner, at the Manasquan Beach. What a kind generous friend! We purchased copiers for our three business locations and then used their IT support! Fantastic, responsive men. All the IT guys have the same kind and easygoing manner as Rich! We love PBS and recommend them without hesitation!
Maria Dolan Customer
We have engaged PBS to provide us with both hardware and software IT support. Their service has been great throughout, they have been reliable, professional and timely with all of our needs.
Pablo Ismael Customer
We lease 4 copiers from them, they set them up and add them to our computers (scan, fax, and print). They always have prompt service, when we upgraded our computers to Windows 10 and the scanning function didn't work, they were out the next day and upgraded the firmware on the copiers so that they would.
Alexandria Kinney Customer
I would definitely recommend PBS. Great service!!. The staff is very friendly, professional and helpful. We trust this company with all of our computer needs.
Valentina Failla Customer